Books are uniquely portable magic. – Stephen King
I love how in books you can forget about yourself and your troubles, and become completely invested in a character's, that is not even real, story and their troubles. When I have free time and I don't have writing that needs to be done you can usually find me reading a book.
Over time I've noticed that a lot of the books that I get really involved in are fantasy. I do love other genres and recently have mainly been reading those, but fantasy has a special place for me.
Fantasy has taught me so much. The most important lesson is that no matter what is going on there is still hope. I think that that is one of the reasons that I read it, although there are really so many different factors as to why I read fantasy, one of which is that it is just enjoyable for me.
Books are magic. They let you travel the world, even going to different realms.
Today I want to share with you my favorite fantasy books right now. There are so many amazing books out there that I feel sure that at some point at least some of my favorite fantasy books are going to change.
I am so excited to share these amazing fantasy books with you! So, let's begin!
5. The Pendragon Cycle by Stephen Lawhead
I love the King Arthur stories, so when I read this slightly different take on them I really ended up falling in love with them. There are these amazing moments of the different characters getting to be the hero.
However it often seems as though Merlin is the real main character in the series. Anyways, I don't want to spoil too much, I will just say that this is a fascinating and different take on a classic story.
Also, I know that this is a series, but if I am dealing with fantasy it is often impossible for me to just talk about individual books, usually I have to talk about the entire series. It makes so much more sense and it makes it so much easier for me because if I did not do it this way you would be getting my twenty favorite fantasy books, or it would take me a really, really long time to write this post.
4. Howl's Moving Castle by Diana Wynn Jones
This book is just magic at its most fun. This book is not serious and I just love a fantasy book that doesn't take itself seriously since for some reason most do. I can just imagine that this would be such a fun book to write, although at the same time it would be so difficult because the magic is so unpredictable.
In a way this book just feels like a fairy tale in the very best way possible. You don't want to think about the why in the magic too much because if you do you will just end up confusing yourself and anyone else who happens to be listening to you.
3. Chronicles of Narnia by C.S. Lewis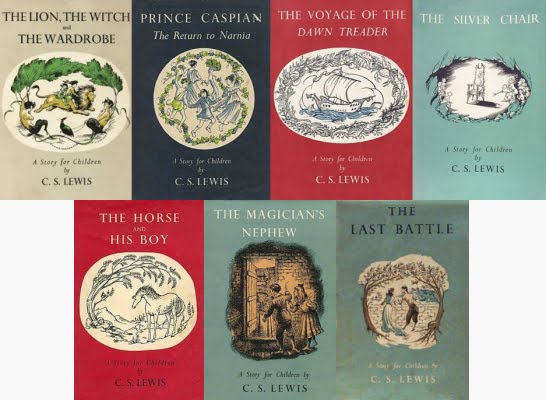 I think that this may have been the first fantasy series that I ever read, if not the first it is certainly one of the first. It holds a special place for me. It is such an amazing series. There are so many details with such a concise and beautiful style. The story feels so simple and accessible, but there really is so much there.
This is just a magical series that I absolutely love.
I know it is another series, and I did say books, but it might be more accurate to have titled this my favorite four fantasy series and one favorite fantasy book.
2. The Harry Potter Series by J.K. Rowlings
I know that this is sort of a given when you are choosing favorite fantasy series, but there really is a reason for that. These books are amazing. The extra things such as tweets and The Cursed Child may really just be extras, but the books themselves and only are really amazing.
1. Lord of the Rings by J.R.R. Tolkien
I know this is another of those fantasy series that is sort of obvious, but there is a reason for it.
This series is absolutely amazing.
The world that you get to step into is not just something the author made up, it feels real.
J.R.R. Tolkien spent so much time and love on this series, and I feel like in the books themselves it is really possible to see that.
---
Right now those are my favorite fantasy series, but there are so many good ones out there that I would not be surprised if parts of my list change. Even as I was writing I could think of other series that I should have included: the Prydain series by Lloyd Alexander, the Fablehaven series by Brandon Mull, and the Stormlight Archives by Brandon Sanderson.
There are just so many amazing books out there and there is no way that I would be able to list them all even if I tried.
I would love to hear what your five favorite fantasy books or series are! I am always looking for new things to read, so any recommendations would be appreciated!